Our childhoods warp us all.
There are many things that I think I have made abundantly clear on this blog that I love on this blog. I am here today to talk about two of them. The first is the supernatural. I am a skeptic so I do not actually believe that much of the supernatural actually exists. Unexplained phenomena are just things waiting to be explained by science. However, I still love fantastic stories for the great fiction that they are. Ghost stories are particularly epic and can vary on a spectrum from touching to terrifying. Even the most benign stories used to chill me to the bone until it dawned on me that all of the stories were unproven. Still, it is still fun to suspend my disbelief and get a little scare now and again.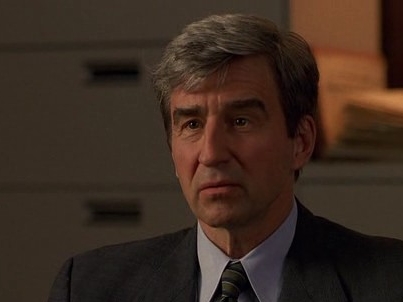 I mean, I learned more law from this guy than my folks.
The second thing that I have gotten into more recently is the law. I am currently very close to getting a paralegal certificate at the local community college. My parents are both lawyers and so I grew up just outside of the legal profession. You see, anyone in the legal profession really cannot talk about their cases too much due to confidentiality issue. Also, it is probably best not to talk about such things in front of children as a lot of cases are either boring or inappropriate for kids. Now, I am facing the same thing as I work on an internship. So, you will never see me tell stories on here about my work and that is probably for the best anyway. However, that does not count for famous cases that I was not involved in.

I mean how can you tell that it's haunted. That's profiling.
When Karen Ackley and her family moved into their house in the 1960s, they were warned by neighbors that the house was haunted. She was pretty sure, after her own observations, that there were three ghosts haunting the house. One was a Navy Lieutenant in the Revolutionary War and the other two were Lord George and Lady Margaret who lived in the 18th Century. She brought in two of the usual charlatans (who I will not publicize) who confirmed her suspicions that the place was haunted. The hauntings mostly centered around experience Ackley's daughter and grandkids had but there were one or two reports from Ackley herself and the man who would marry Ackley's daughter. Ackley specifically wrote a piece for Reader's Digest detailing, among other things, that the ghosts gave gifts to the children. These gifts disappeared later.

Who you gonna call? A lawyer!
Later, her family sought to sell the house and they did so to a Jeffrey Stambovsky. To his horror, he found out that the house he had just signed a contract to purchase was haunted by poltergeists. In any fictional world, he would hire some Ghostbusters to just clean the place out and have the Ackleys pay for it. In the real world. you apparently go to court. He filed for an act of rescission which is, in this case, a request for the courts to revoke or cancel an agreement. He wanted to back out of buying the house because he felt that the Ackleys owed him a duty to inform him of the poltergeists before he moved in. The argument was that the law should not compel performance of a contract that is not fair and open. By concealing the information about the ghosts, Ackley tainted the contract by not acting good faith. The dissenting opinion talked about the doctrine of 'caveat emptor' which is 'let the buyer beware'. They insisted that Stambovsky should have done his research but the majority opinion granted the cancellation of the contract.

It was the biggest case of its kind since State v. Stantz, et al.
Nevermind that this whole 'haunting' was mostly made up of stories from children or adults who were breathing in paint fumes or were half awake. The New York courts had ruled that 'haunted' was an actual condition for real property to have. However, thankfully, at no point do they speak as if ghosts are a known thing that actually exists. The ruling is based on the bad reputation that calling a house haunted causes. Once you get past the Ghostbusters and Shakespeare quote in the opinion, the actual opinion is more about whether a seller should be able to get away with concealing information. The court held that taking advantage of a buyer's ignorance is distasteful and should not be able to be hidden behind a doctrine like caveat emptor. It was a decision that helped promote fair dealing in the real estate market in New York. So now you know!
Tags: #atozchallenge, A to Z, A to Z Blogging Challenge, Ghosts, Haunted, L, Law, New York Courts, Supernatural