Yo pensé que yo escribiría este introducción totalmente en Español porque yo estudió Español por siete años. Yo quiero el idioma Español. Es una idioma muy romántico y musical. Soy familiarizado con la cultura del Mexico porque esta cultura es muy excitante. En particular, estoy fascinado por El Dia de los Muertos. Adicionalmente, yo amo leer las leyendas de los Aztecas y los Mayas. Los dioses de estas culturas antiguo son interesante pero son contaminado por prejuicio. Yo espero disfrutó este pequeño fragmento de mal Español. Lo siento si ofendí. Yo soy un gringo de Baltimore, Maryland.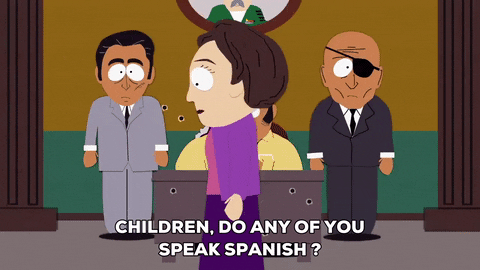 Whew! Well, I hope that any Spanish speakers enjoyed that and are not too mad that I messed up any of the grammar. It has been years since I spoke or wrote Spanish with any regularity. Allow me to translate for my fellow gringos. "I thought that I would write this introduction completely in Spanish because I studied Spanish for seven years. I love the Spanish language. It is a language that is very romantic and musical. I am familiar with the culture of Mexico because it is very exciting. In particular, I am fascinated by The Day of the Dead. Additionally, I love to read the legends of the Aztecs and the Mayans. The gods of these cultures are interesting but are contaminated by prejudice. I hope you enjoyed this small bit of bad Spanish. I'm sorry if it offended. I am a gringo (slang for a white boy) from Baltimore, Maryland.
I really do love the Spanish language. While most of my teachers were from the United States (and probably from here or the midwest) there was one exception. I am blanking on her name but I swear that her first name was Dora. Though, I could be confusing my history with a young girl who taught millions of young kids Spanish. Anyway, she not only taught us the language in sixth grade, she also tried to instill a love of the culture in us. I do not remember where she was from but she taught us a lot of songs native to South America and Central America. It is also the first I heard of the Day of the Dead festival and that is a tradition that I have loved ever since.
For those of you have not seen Coco yet, the Day of the Dead is a (mostly) Mexican holiday that happens to coincide with my favorite holiday Halloween (celebrated in Japan and the USA). The timing is fairly coincidental because the festival was moved to coincide with Western Christianity's All Saint's Eve, All Saint's Day, and All Soul's Day. That Western tradition gave birth to Halloween but has lost almost all of its religious significance. The Day of the Dead is instead a joyous and reverent occasion. Its purpose is to honor the dead ancestors of the people who celebrate it. It is believed that those ancestors are allowed to visit on those three days out of the year. Because they are visiting, offerings of food, candy, and other gifts are left for them at altars that bear their image. In the 21st Century, this festival was made even more popular when it became a Mexican National holiday as an effort to unify the northern and southern regions.
Later teachers tried to continue that tradition even though Señor Binford and other Spanish teachers were super white. At least Señor Castro was fairly Hispanic (I think?). Anyway, there was so much they had to teach us. I learned more about the contemporary culture of Mexico through Almodovar movies like Mujeres al Borde de un Ataque de "Nervios" (Women on the Verge of a Nervous Breakdown). I learned a new respect for Mexican pop culture that I would never have experienced otherwise. We read many plays written by Spanish-speaking (or just Spanish) playwrights. I read the entirety of Cien Años de Soledad (100 Years of Solitude) in Spanish. It is a Colombian novel about multiple generations that has a few fantasy elements to it which are the parts that really kept me reading.
In fact, every time that I walk by a Catholic church that is distributing ashes for Ash Wednesday, I think of Marquez' book. This is a small spoiler for a book you may never read but it fascinated me. Basically, the book covers a family that is somewhat cursed. Three of their sons go to get ashes smudged on their foreheads like everybody else. However, when they go to wipe the ashes off later, the ashes will not come off. The book talks about how those seemingly permanent marks on their foreheads are like perfect targets for the government gunmen who later kill them. It is insinuated that the ashes clung to their foreheads and singled them out in a crowd because of the family curse. That sort of thing is a story element that almost always gets my attention.
I really do like the myths and legends of the Aztecs in particular. These were not really offered in the lesson plan for the various Spanish classes that I took. If I could have spoken about the pantheons of other cultures in Spanish class then I would have had way more fun. Of course, some of this was covered in various History classes but usually as a footnote to the discussion about the Greek and Roman pantheons. The first time I really learned about the Aztec gods was when I saw the preview website for Final Fantasy 8 where there was a summoning spell for "Quetzalcoatl". Since I already knew that many of the summons were gods or mythical creatures, I decided to look up this new one. Quetzalcoatl is a winged snaked (which is basically a dragon) and a fixture in the Aztec pantheon of Gods. This is about the point where I usually got lost in Encyclopedia Mythica for entire lunch periods.
Anyway, it was fun to type some Spanish and then talk about my love for the various Spanish cultures (mostly Mexico). I really do hope that I did not mangle the language too badly. I mean, if I did it would feel like a bit of a waste of a private school education. I also really do respect other cultures and I do not want to insult anyone. I was going to write a whole post in Spanish but the thought of a one thousand word post in a foreign language was a little too daunting in a month like this. I hope you enjoyed this rambling post anyway.
Tags: 100 Years of Solitude, A to Z, A to Z Blogging Challenge, A to Z Challenge, Almodovar, Aztecs, Day of the Dead, Foreign Language, Marquez, Mayans, S, Spanish, Women on the Verge of a Nervous Breakdown