Alright, this post is definitely going to get very spoiler heavy but for a computer game that came out over 2 and half years ago. If that sort of thing bothers you, I do not blame you if you step away right now. Also, if there is any chance that you would play a game that I will be actively endorsing (#notsponsored), go and play it first. The rest of you may stay and learn why I think that this was an important game that everybody should experience in some way. If the way you want to experience it is through reading this post instead of playing an admittedly frustrating game for hours then thank you for sticking around. That being said, let us get down to business.
The game is a combination of a roleplaying game and a bullet hell game. "Bullet Hell" is a genre that often leads to very difficult gameplay that often has a fairly sharp curve. In bullet hell games, literally a multitude of objects come at you and you must dodge them or die. Winning the fight is more about survival than actually attacking the target. The video below will illustrate what is generally considered hardest fight in the game, one I never even attempted. Most of the combat is easier than that. The other part of the game is roleplaying which means you spend a lot of time going to and fro and talking to people and fetching items while you are traveling from point a to point b. The closest thing I have seen to it is probably the Paper Mario games.
The thing about that roleplaying aspect is that practically everything that you do is a choice that you made which effects the way the story goes for the rest of the playthrough. The story begins as you play a small child who falls down from the surface to a cavernous world of monsters. In any other game, your goal would be to fight every monster you come upon to escape the monster kingdom. Except that your first clue that this may not be the case is that after you fall, you are taken in and fed by a kind sheep woman who wants to protect you. When you try to leave, she stands in your way and refuses to budge because it is too dangerous out there. Your first real choice is made at that moment. You can kill her to start your journey toward freedom or you can wear her down by being stubborn until she realizes that she cannot make the decision for you and lets you go.

This video brought to you by Holly Conrad and Ross O'Donovan.
This kind of sets the tone for the rest of the game. If you wait and see what happens, you are often rewarded with pacifist options to get through the rest of the game. Your next destination brings you to a monster village dominated by two skeleton brothers one of whom was friends with the earlier sheep lady. Their names are Sans and Papyrus (after the fonts Comic Sans and Papyrus). Papyrus talks a big game about wanting to kill all humans but when it comes down to it, he is a pathetic guy with few friends and is overjoyed to change his tune if you befriend him instead. Sans is a lazy guy who just wants to tell puns and live in peace. The fight against Papyrus is the first time where it is really difficult to tough it out until he becomes your friend. You are almost punished with harder gameplay for being nice which is a great mechanic. It is harder to be nice sometimes but it is ultimately more rewarding.
As you continue through the game in this "pacifist" route, you really start making friends instead of enemies. Befriending Papyrus allows him to help you befriend the hardcore soldier Undyne who is as intense about being your friend as she was in hunting you down. Having befriended Undyne, you will have an easier time befriending the kingdom's nerdy, shy royal scientist Alphys because she has a major crush on Undyne. Finally, you reach the only exit of the kingdom but the King Asgore (scary name) stands in your way. You find out that he only wants to kill you because he can combine your soul with six other dead children to free his people from a magical barrier. He does not want to do it but his people will eventually die out trapped in the cavern and he feels they deserve to be free. He also wants to do it in honor of his son who died which broke apart his marriage to Toriel, the sheep lady from the beginning.
In the end, if you chose a pacifist run, you are able to defeat but not kill the king and you are to able to defeat and lay to rest the spirit of his dead son. In doing so, you are able to wield the energy from the seven hearts and break the barrier, freeing all of the monsters. It is such a touching moment as you look out over this new horizon with your new friends, all of whom have come to love and accept you. Through the game, you spend a lot more time talking to characters to get them what you want to achieve a peaceful resolution. In fact, the random monsters that pop up to attack you all can be disarmed by giving them gifts, telling jokes, complimenting them, petting them, or just running away. As I said, this makes the combat more difficult because you spend a lot of time dodging obstacles while not attacking. Instead, you spend time figuring out what each monster wants and how you can give it to them.
Of course, this is only if you do the pacifist run. To get the other half of the game's experience, you have to finish what is called the "genocide run". In the genocide run, you do what comes naturally in a video game. You go around and you kill everything and everyone. Doing so gives you EXP and LOVE and makes it easier to get through a lot of the bullet hell segments, at least early on. However, you later learn that EXP does not stand for "experience" and LOVE does not stand for "love". Instead, they mean Execution Points and Level of Violence. The more creatures you kill, the more evil you become. Characters who could have become your friends now flee before you and the ones who tried to stop you in the pacifist run are even more desperate to do so. And you know what? You can sympathize with them. I actually wanted them to defeat me because I felt bad for them and their deceased friends.
Eventually, you reach the end of the genocide run and you have murdered everyone who did not run away from you. The level of power that you have absorbed from all of the blood you have shed takes a form separate from you as a malevolent murder spirit. It asks you if you want to join it in destroying the universe. Whether you agree to join it or not, it will go ahead and destroy the universe. In addition, two characters in the game (Sans and Flowey) know that they are in a game. Even if you start a new game, they will both remember that you finished the genocide run. Forever. It will permanently change any other playthroughs of the game even if you go on to be as nice as you can be. The game remembers that you were the real monster. Because, just like in real life, everybody remembers the bad things you do and you must learn to live with the mistakes you have made.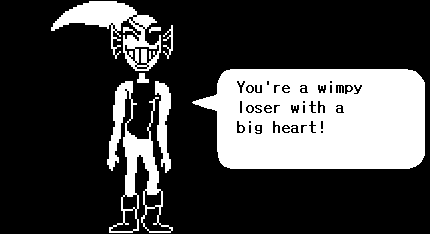 So why is this game so important to me? Why did I think it was important to let you know about it? I can answer that in one word: Morality. The game is a great example of what sticking to good morals can get you and the consequences of bad morals. You can be as wrathful as you want to be. It will probably get you money and things and power. However, it will not win you any friends of substance and you will ultimately be alone and angry. It can truly be harder to be nice and positive sometimes especially in the face of adversity. When being mean is a shortcut, we all consider it at some point. However, most of us know that we will not be able to live with ourselves afterward. This game left me with a lot to think about and hopefully, this small bit leaves you with something to think about.