I came up with the idea for this post after the release of Pokemon Sun/Moon and the release of Pokemon Go. Recent readers of this blog know that I am still playing Pokemon Go. After hearing about challenges where people play through the game only using one type, much like a gym leader. Last year I invented gym leaders based on a game I wanted to write. This year, I thought about what I could have been based on my life so far and the world of Pokemon.
Pro-Wrestler
Fighting Type – Heavyweight Badge
When I was younger, I had less control of my anger. I thought about taking up something like boxing but my obsession from a pretty young age was professional wrestling. In this version of me, I would have pursued that dream and used it to focus my rage. I would have formed a bond with my starter pokemon and we would have trained together to be stars and then I would train others. My gym would be a place where trainers could challenge me but also where people could train physically along with pokemon.
Emboar – A young boy with an anger problem, I eagerly picked the fire pokemon Tepig as my starter pokemon. We learned to master our anger together.
Primeape – The mankey I caught was the embodiment of the unbridled and untactful anger that I was experiencing but we learned to calm down after a bunch of losses.
Machoke – The art of grappling was my first foray into more disciplined fighting and taught me that there was more than swinging fists or throwing fire.
Hitmonchan – The sweetest science helped further develop conditioning and accurate strikes.
Hawlucha – Of course, I was going to hunt down a Hawlucha ally after gaining respect for the faster, high-flying style of lucha libre.
Mienshao – Catching a Mienfoo sparked an increased interest in the broader spectrum of martial arts. In return, I gained an increased ability to focus my negative emotions.
Parks and Rec
Ground Type – Park Badge
A couple people have said that I would have been well-suited for a career in parks and recreation. Whether it is designing activities for people to do or just walking the parks. I love walking around and exploring and lately I have been haunting my local city park a lot. In this version of me, I would have embraced the outdoors more and walked around protecting people. Gym battles would be done by appointment or if the challenger found me walking out in the woods or the fields. It would add a degree of challenge to not know the battlefield beforehand.
Golem – Most people say that Geodude is shaped like a boulder but I thought that she was shaped like a friend. She was a good starter pokemon as I started to hike through the wilderness looking for Pokemon.
Sandslash – As I journey off the beaten path, I sought out a Sandslash to cut through the underbrush and through the competition.
Krokorok – I grabbed a Sandile so I could train an enforcer with dark type moves.
Rhyhorn – Rhyhorn is useful for moving fallen rocks and trees off of paths and crushing the competition.
Gliscor – My eye in the skies on those days where I am deep in the woods and he fights like a superhero in the gym.
Onix – Opponents tend to quake with fear when they see my largest pokemon. In a pinch, Onix is also big enough to provide transportation for a wilderness rescue.
Theater Electrician/Designer
Electric Type – Spotlight Badge
For five years, I worked as a technical director for a regional theater in New Jersey. I could not have stayed there (the theater folded shortly after I left) but I could have stayed in the business instead of moving on. I love the theater and I loved hanging lights and making them do what I wanted. I loved seeing my designs (and hearing my sound designs) in real life stage productions. In this version of me, I would have stuck with the theater and would still be haunting a theater. In between swinging a wrench and drawing lighting plots I would take on challengers. I would get permission to use the theater stage as a battleground for big showy battles.
Electabuzz – When I started with my Elekid, he was not super impressive but he was a friend. Now that he has evolved, he is another hand on the job and a true partner.
Magneton – Levitation is handy in getting tools from the ground up to where I am up on a ladder or the catwalk.
Emolga – A little friend who can scurry up and check the plugs on the lights if necessary. He can also glide from pipe to pipe to check things out.
Rotom – The best board operator is one who can literally possess the board and control it from within.
Raichu – For a kid with a thing for electric type pokemon, a pikachu is a welcome addition to the team.
Flaafy – A gentle reminder of my family's pastoral history and a personal symbol of my family. The lamb.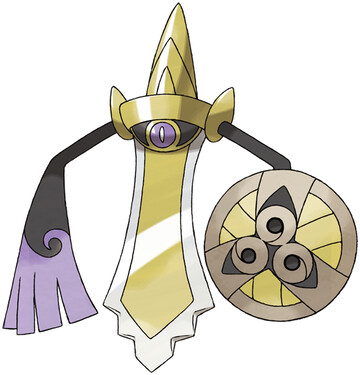 Agent of the Law
Steel Type – Marshall Badge
When I was a teen, I wanted a badge. My uncle worked with the police but I never wanted to be a cop, I wanted a little bit more freedom. Some of these feelings have been stirred up lately by my legal studies and my brand new career as a paralegal. Law enforcement in the world of Pokemon always seemed really mixed up with the world of champion trainers. In several of the games, members of the Elite Four investigate crimes and fight terrorists. In this version of me, I would help keep the peacce and troubleshoot criminal or terrorist threats. My battlefield would also double as a headquarters for crimefighting.
Aegislash – My Aegislash is evolved all the way from Honedge which was my starter pokemon. Usually, giving a sword to a child is a bad idea but I respected the blade and gained discipline.
Skarmory – My Skarmory has the advantage of the high ground and speed for ruthless attacks to hopefully end the battle quickly or chase down criminals.
Empoleon – Empoleon's size is a great thing to have as back up and his water moves act as a non-lethal method for resolving tricky situations while also dominating gym opponents.
Registeel – Who doesn't like a giant robot acting as a shield when necessary?
Lucario – A great partner for practicing hand to hand combat and a great tracker.
Bronzong – A literal heavyweight for protecting myself from criminals and challenges to my badge.
Haunted House Owner
Ghost Type – Scare Badge
I have loved Halloween since I was a little kid. Lately, I have visited some haunted houses and watched some documentaries on how they are put together. It has gotten into my head lately that I would love to design haunted houses given the chance. In this version of me, I would own and operate an ever-changing haunted house that people could get amazing scares and thrills from. The battles would take place in a spooky, dark basement meant to unnerve my opponents. The huge basement would be below the haunted house so that people could hear periodic screams and laughter while battling. It would be so fun.
Gengar – Travelling to real haunted houses as a spooky little kid, I would have embraced a Gastly instead of a 'normal' pokemon for my starter.
Mismagius – How could I not want a ghost that looks like a witch and evolves into a wizard.
Trevenant – Spooky plants are a must for a haunted house and I knew this guy would make a very scary tree.
Chandelure – A well-controlled fire can scare the pants off of visitors just as much as any other ghost in the house.
Dusclops – A powerful ally and a formidable scary opponent. You want to be on the right side of this creepy pokemon.
Sableye – A creepy little guy with gem eyes. Victims can see his eyes sparkle in the dark before he scares the crap out of them.
Professional Writer
Water Type – Penstroke Badge
I have thought about being a professional writer and maybe that still lies somewhere in my future. For now, I love writing here for whoever reads this blog and for myself when I am not working or out playing. If I had become a professional writer, I would want to live where I could take a break and swim in nature. In this version of me, my gym would be alongside a large lake. My chosen battlefield would be on the lake using a series of rafts so my water pokemon could swim among them. I would write pages and when a challenger came, I would take a break and we could have a lot of fun on the water.
Wartortle – A traditional starter pokemon, the squirtle evolution track always made think of superheroes.
Azumarill – A water pokemon with excellent hearing, it could help listen out for fellow fishy pokemon under the waves.
Kingdra – I could imagine this horsea hanging out in a bucket next to my desk sometimes.
Ducklett – A pokemon who can fly but can also dive deep to evade enemy attacks.
Sharpedo – Sometimes a writer needs to use a scary monster to further the plot.
Kingler – The krabby evolution line is surprisingly powerful, especially when facing moves like crabhammer or guillotine.