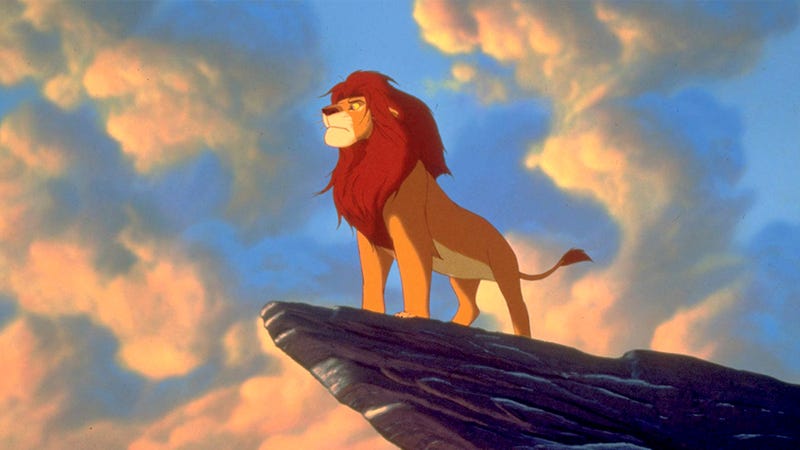 Lately, I have been thinking about the Lion King a lot. It is not because of the recently released full CGI version in theaters right now. People are all up in arms about it but I will eventually see it and form my own opinion. Actually, I have been thinking about the original Lion King movie because the music is in regular rotation on my Pandora account. Well, really, it is just two songs. I had the cassette of the soundtrack when I was a kid. The movie came out when I was about ten years old. I played that cassette until it wore out.
The song I listened to the most was "I Just Can't Wait to Be King". It is by far the most uptempo, fun song musically in the whole movie. The other song I listen to a lot now that I'm older is "Be Prepared". I've felt that I love the villain songs more and more as I have gotten older. I still love both songs but recently I have realized they are kind of the same song from different angles. I will warn you that this post is now going to get a little political but not really specific to our current climate. Although, you can draw your own conclusions. Also, Lion King spoilers.
"I Just Can't Wait to Be King" is a song sung by young Simba as he plays with Nala. He sings the song mostly as a way to distract his chaperone, Zazu, the King's advisor so that he and Nala can sneak away to explore the Elephant Graveyard. Zazu and the King have forbidden he go there but he cannot help himself. He sings about how excited he is to become King (leaving out the part where his father needs to die in order for that to happen). He thinks about how he won't be pushed around anymore when he is in charge. He will be free from responsibility now that nobody will be in charge of him.
This is the short-sighted thinking similar to your average political candidate. Someone who is excited to have the glory of a leadership position but does not think of the burdens. I think this is obvious to most viewers. Simba has no plan on how he will rule as the only monarch in a large area of Africa. He is thinking of freedom and legacy and glory and no responsibility. Zazu and his father continuously try to rein him in. The King's subjects join in the song but mainly because of fun and because when the prince sings, you join in.
"Be Prepared" is a song sung by Scar, the King's brother and Simba's uncle. He is the villain of the movie, heavily inspired by Claudius in Hamlet. The song is a literal command to his secret hyena army. He is telling them of his plan of regicide and succession. As soon as the King is dead, the hyenas need to be ready to protect Scar's claim to the throne. Scar knows how people think about him and needs the extra muscle to support his new regime.
It is clear that Scar also has no clear plans on ruling the Pridelands. I mean, he certainly has sinister plans but no plans on how to rule efficiently. It is clear that he does not want to burn everything down (even though that is how it ends up). He wants fawning subjects and glory. He wants the easy life of luxury that only a successful monarch gets. When we find him later in the story after he has gotten what he wanted, he has screwed it up and has already descended into madness.
The thing is, at the time that both songs take place, neither Simba or Scar would have made good leaders. Obviously, Mufasa was a great leader and everybody was weirdly happy with his bloody rule as a predator over the Pridelands. However, Mufasa was not an option anymore as Scar and the hyenas had to go and kill him. If Simba stayed in the Pridelands and had been tapped to become King, he would have been out of his depth even with the help of his mother, Zazu, and Rafiki. This was actually explored in Kingdom Hearts 2 showing the events soon after the end of the movie where Simba has a crisis of confidence because he does not have the wisdom to lead. So neither choice was especially good and this is why rulers should not be murdered. As if Julius Caesar had not already taught us that.